Wha???
Those guys a Sports Illustrated are walking into a joke. I've taken a screenshot and saved it for posterity. Look at the highlighted part.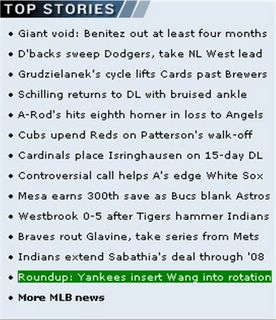 -Courtesy of si.com by way of an
astute reader
at
Athletics Nation
.
I still can't believe the censors let "insert Wang" get past them. However the actual title of the
article
is "Yankees hope Wang has the right stuff." The censors must be in on it. This is too funny.